Flappy Soccer Ball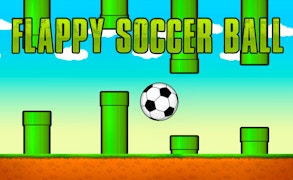 Flappy Soccer Ball
Dive into the exhilarating world of Flappy Soccer Ball, a fresh and challenging twist on classic arcade games. Combining elements of both flying games and soccer games, this offering promises hours of soaring fun.
Flappy Soccer Ball is a mesmerizing blend of strategy and skill, a perfect fit for fans of tap games. The concept is simple: guide your soccer ball through a tricky aerial path. But don't be fooled by its simplicity, as the game offers layers of intricacy that demand attention, agility, and quick-thinking.
Like the best clicker games, Flappy Soccer Ball hinges on timing. Each tap sends the soccer ball rising and falling, demanding precision to avoid crashing into obstacles. The game captures that addictive 'just one more try' feel of classic arcade games that will keep you riveted to your screen for hours on end.
The graphics are bright and colourful, creating an engaging atmosphere that keeps you immersed in every tap. The sound design is crisp and satisfying - the swooshes as you dodge obstacles or the thwack as your soccer ball soars high into the stratosphere are music to arcade lovers' ears.
This game is an exciting addition to your collection if you're a fan of flying games, soccer games, or simply looking for an addictive tap game. Its delightful mix of simplicity and challenge marks it as one to watch in the realm of mobile gaming.
In conclusion, Flappy Soccer Ball takes the best aspects from flying, soccer, tap and clicker games, amalgamates them into one app, providing endless fun. It's time for your fingers to have some football fun!
What are the best online games?