Flappy Cat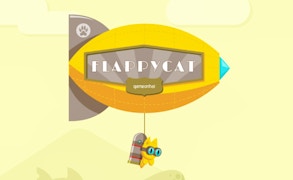 Flappy Cat
If you're looking for a fun, challenging, and addictively engaging game to play on your device, look no further than the Flappy Cat! This arcade game brilliantly merges the elements of cat games, flying games, clicker games, and tap games into one immersive gaming experience.
The premise is simple - help a charming, animated cat navigate through a world full of obstacles. However, don't be fooled by its simplicity. Flappy Cat's gameplay is intensely challenging – it requires precision, timing, and loads of patience. Each tap propels the cat upwards while inactivity lets it descend – just like the mechanics in various popular flying games.
If you're a fan of classic arcade-style gameplay, Flappy Cat will take you back to the golden age of arcade gaming with its simplicity yet intricately difficult gameplay dynamics. The reminiscent combination of ease and challenge is what has cemented Flappy Cat's status as one of the best new cat games available today.
What sets Flappy Cat apart from other tap games and clicker games is its fun factor. It brings an irresistible charm with its loveable character and adorable aesthetics. Every moment is filled with tension because each flight could be your highest score or your immediate downfall! This game is sure to hook any gamer looking for an exciting challenge.
In conclusion, Flappy Cat offers something different in an overcrowded market of similar tap and clicker games. It combines elements from cat games and flying games while maintaining all the fun from traditional arcade experiences. For anyone seeking a game that delivers equal parts fun, excitement, challenge, and thrills - then Flappy Cat should be your next gaming adventure!
What are the best online games?