Fishing with Friends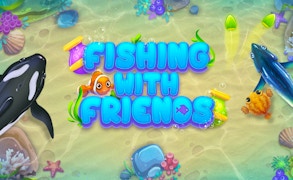 Fishing with Friends
Reel in a captivating experience as you engage in Fishing with Friends– an engaging entrant into the world of action-packed fishing games and skill games. Differing from the conventional, this multiplayer game takes you and your friends deep-sea fishing, making it not just about patience and precision, but also quick reflexes and strategic planning.
With the trusty harpoon in your grip, take precise aim and fire to catch a bounty of fish. But this is far from just casting your line and waiting – it's a thrilling action game that will keep your pulse pounding at every moment. The challenge intensifies with special powerups like Rapid Fire, Exploding Net, and the fan favorite Ocean Vortex.
Each round only lasts 2 minutes, ensuring that each match is a rapid-fire burst of intensity - perfect for those seeking casual yet exhilarating gameplay sessions. With four players in each room, every match becomes a fierce competition to see who can score the most points. Will you emerge as the champion angler amongst your friends?
Apart from the gripping gameplay, Fishing with Friends also allows you to customize your avatar and nickname – small details that further enhance its immersive nature. And if that's not enough, you can even score combos to unlock special powerups, including opening an ocean vortex for potential massive catches!
In summary, Fishing with Friends isn't your everyday fishing game; it's an exciting ride brimming with action that would captivate both beginners and seasoned gamers alike. Once you start playing this skill game, 'hooked' won't just refer to the fish!
If there ever was a time to jump into a boat with your friends for an unforgettable fishing trip right at home - this is it! Turn up your competitive heat because it truly is survival of the quickest in Fishing with Friends! Don't miss out on this exhilarating catch on the gaming scene!
What are the best online games?
Tags