Fishing Clicker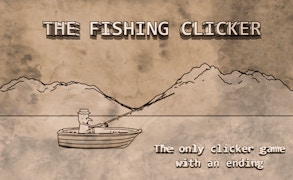 Fishing Clicker
Step into the enthralling world of Fishing Clicker, a riveting blend of promise, patience, and pay-off in this action-packed clicker / idle game. Replete with engrossing features, this gripping fusion of fishing games and idle games has taken the genre to unprecedented heights.
Fishing Clicker is not your run-of-the-mill clicker game. It's a journey - a tale of a man named Mr. D, an avid fisherman who is trapped in a time loop, endlessly fishing for that elusive catch. Your clicks become his actions, creating a unique bond with Mr. D as you navigate through the game's twisted narrative.
The brilliance of Fishing Clicker lies in its gripping story arc – it's not just about endlessly clicking; it's also about reaching that thought-provoking climax, awaiting the fate of Mr. D! It's an action-packed narrative that keeps you engaged and on tenterhooks.
Visually speaking, this clicker game is stunning. With vibrant colors and stunning imagery – it captures the essence of the great outdoors perfectly.
The game mechanics are simple yet addictive – your progress is entirely dependent on your ability to frantically click and fish. As you progress through this fishing game, you unlock new areas to explore, each more breathtaking than the last!
The aspect that sets Fishing Clicker apart from other traditional idle games, however, is its exit strategy - it can be completed! This uniqueness offers an incredible feeling of accomplishment as you experience Mr. D's unfortunate yet immersive epilogue.
In conclusion, Fishing Clicker is an exhilarating mix of fast-paced action and strategic thinking. This game is a must-play for fans of fishing games, clicker games, and idle games alike. Don't miss out on the chance to embark on this captivating adventure!
What are the best online games?