Fish Coloring Book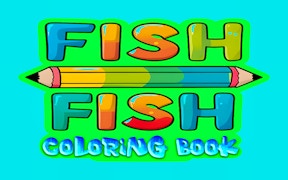 Fish Coloring Book
Dive into the vibrant underwater realm of Fish Coloring Book, a brilliant blend of animal games and drawing games, specifically tailored with the joy and creativity of our younger gamers in mind.
This captivating online game, that offers an engaging platform completely free of cost, ingeniously taps into the boundless ocean of children's imagination. It's more than just a traditional coloring book. It's your private underwater canvas where you can paint fish in any hues you fancy!
The magic begins when you are given the unique opportunity to select any fish image that catches your fancy. A whole variety of aquatic beings are available at your disposal to paint and fill with life. Each selection holds an exciting possibility for a new story, or perhaps a retelling of an old one!
And then comes the best part - bringing these chosen images to life with a splash of color! Utilize your virtual brush to pick out colors from an extensive palette and just let loose your creativity. With Fish Coloring Book, you're not just coloring within the lines; you're actually painting a beautiful, vibrant world of your own. The mesmerizing underwater scenery serves as the perfect backdrop for those beautiful strokes.
This nifty game falls perfectly under the umbrella of Games for Kids category as it is incredibly user-friendly and intuitive. Yet, it is challenging enough to keep those little minds occupied and entertained for hours at end.
If you're on the lookout for innovative and fun-filled animal games or coloring games that stimulate both fun and learning, then Fish Coloring Book is just what you need! Not only does this game allow kids to express their artistic vision freely, but it also nurtures their fine motor skills and color recognition capabilities.
So go ahead - unleash your inner Picasso with Fish Coloring Book - trust us, it's bigger than it looks!
What are the best online games?