Color Line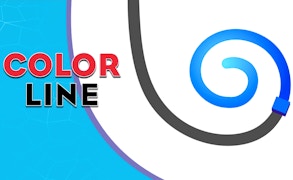 Color Line
Strap in gamers, as we set off on an intriguing journey into the realm of arcade games. Our central focus for today's review? None other than the spellbinding spectacle of Color Line, a fantastic fusion of coloring games and skill games.
Picture this: you're not just controlling a character or an avatar, you are the master of a vibrant, ever-evolving color cube. Your mission? To navigate this cube through a labyrinth of obstacles and reach the coveted destination. It may sound simple, but heed my words - it's every bit as riveting as it is challenging!
The gameplay of Color Line is its shining jewel. Masterfully designed to test your concentration and timing skills, each level brings a new challenge to conquer. You think your way through the game, manoeuvering the color cube with ingenuity and precision. And there lies its allure: in every unexpected roadblock and victorious arrival lies a thrill that keeps you coming back for more.
You can't talk about Color Line without praising its visual appeal. A kaleidoscope of hues greets you at every turn, making this game as much a feast for the eyes as it is stimulating for your gaming prowess. This isn't a regular game; it's a vibrant canvas where you're both the artist and the explorer, making your way through an arcade-style landscape adorned with colors.
In conclusion, Color Line takes players on an adrenaline-filled ride where coloring games meet skill games in an exciting arcade-style experience. For gamers yearning for something out of ordinary or those seeking to put their gaming skills under spotlight - Color Line is your next gaming destination!
What are the best online games?