First Day Of School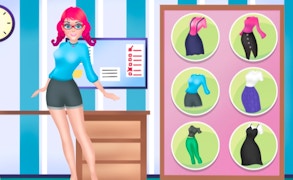 First Day Of School
A game that will light up your child's face with a smile, First Day Of School is a fantastic foray into the realm of Games for Girls. A combination of fashion games, dress up games, hairdresser games and makeup games, this game promises to transform monotonous school routines into a fun-filled journey.
As soon as you step into this virtual environment, you are welcomed into the most exciting school experience imaginable. This isn't just another run-of-the-mill dress up game - you become the kids' favorite class teacher, guiding them through their school adventure while keeping them entertained and engaged with puzzles and activities.
The true charm of the First Day Of School game lies in its versatility. Whether your child is passionate about fashion and wants to explore their creativity through fashion games, or they want to challenge themselves with dress up puzzles or are interested in trying out some creative hairstyles in the Hairdresser Games, there is something here for everyone.
The game has been brilliantly designed with a user-friendly interface that children find simple to navigate. Its vibrant graphics and enjoyable music only add to its appeal. What's more, their budding fashionista can even try their hands at makeup application in the exciting makeup games segment!
In conclusion, First Day Of School strikes a perfect balance between learning and enjoyment. By integrating educational elements within its gameplay mechanics, it ensures that children not only have a blast but also develop cognitive skills along the way. Much more than just one of many Games for Girls - First Day Of School is an experience that your little one will not want to miss.
What are the best online games?