Fireboy and Watergirl 6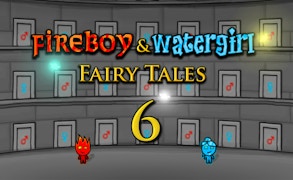 Fireboy and Watergirl 6
Welcome to the mesmerizing world of Fireboy and Watergirl 6, a thrilling addition to the realm of adventure gaming. Part of the visually vivid Fire and Water Games, it's an incredible experience that will have you hooked in no time.
As if in a modern tale of Romeo and Juliet, our protagonists Fireboy and Watergirl are met with challenge after challenge as they explore a fascinating temple, offering not just a game but a journey of excitement and joy. The addition of fairies this time around makes solving puzzles even more engaging, adding another layer to the compelling narrative this game presents.
This game is perfect for those who love 2 player games. You can play alone or join forces with a friend, making it one of those cool games that fosters connection and camaraderie. However, be warned! Fireboy and Watergirl 6 is one of those incredibly Addictive Games - once you start your adventure, it's hard to stop!
The game's heartening mechanics involve turning levers, pushing buttons with fervor to complete the 30 new levels. This isn't just an expansion; it's a whole new adventure from the official Fireboy and Watergirl series! With surprises around every corner, this game offers endless fun that keeps players coming back for more.
In conclusion, Fireboy and Watergirl 6 shines as one of the best escape games, offering both single-player thrills and multiplayer fun. With engaging puzzles, addictive gameplay mechanics, and beautiful graphics, it's bound to become a favorite amongst gamers everywhere.
What are the best online games?