Fireboy and Watergirl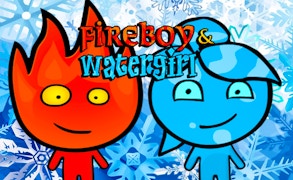 Fireboy and Watergirl
Sometimes the basics are all you need to put a game together and get right into the adventure. That's what'll happen if you decide to play Fireboy And Watergirl. This is a 2D puzzle platform game with co-op potential. You need to help the two titular characters complete a series of levels using their complementary abilities.
How to play Fireboy And Watergirl
Based on the design for Fireboy And Watergirl, the controls are made to be few and easy. You can control both of the characters with both sides of the keyboard, this way you can play with someone else in co-op. The controls for each character are as follows:
Fireboy Controls:
Left Arrow: Move Left
Right Arrow: Move Right
Up Arrow: Jump
Watergirl Controls:
A: Move Left
D: Move Right
W: Jump
The other actions are triggered by character proximity. Things like pushing a block, pressing a switch, or moving a lever are all done by moving one of the characters against them or having either one stand on them. In terms of the environment, only Fireboy can interact with red-colored elements and only Watergirl can interact with blue elements. They're both vulnerable to any green hazards. Levels are completed when you get the pair to the doors at the end.
Fireboy And Watergirl Levels
The levels in Fireboy And Watergirl are arranged in a geometric grid, but later levels can only be selected once you completed previous levels. Once unlocked, you can choose any level you want to play it. You're always trying to get the best score which involves collecting all the Diamonds and completing the level as quickly as possible.
Game Details
Release Date: 2009-11-19 (published on GamePix, 2019-12-22)
Developer: Oslo Albet
Platforms: Web Browser and Android
Languages: English
Last Update: 2020-05-26
FAQ
Where to play Fireboy And Watergirl
Fireboy And Watergirl are available to play on Web Browser and Android Devices. It's free to play on both. To play on your computer, just follow these instructions:
Go to GamePix.com and search for Fireboy And Watergirl
The icon for Fireboy And Waterboy shows the titular characters standing next to each other
Click the icon followed by the Play Now button and the game will start loading the Main Menu
From here, you can select unlocked levels and toggle the music/SFX on and off
When you're ready to start, click Play and the game will take you to the Level Select screen, so just choose whichever one you want and the game will load it in
Games similar to Fireboy And Watergirl
Fireboy And Waterboy is actually part of a huge series that can be played entirely on GamePix. Simply searching the title will bring up all the games in the series. If you're looking for other two-player games on GamePix, Cats, Basketball Stars, and Gang Fall Party are also ready to play.
What are the best online games?