Fire Dragon Adventure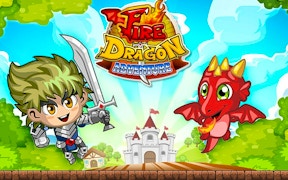 Fire Dragon Adventure
Immerse yourself in a fantastical world of adventure and lore in the charming pixelated realm of the Fire Dragon Adventure, a notable standout in the escape games, knight games, and dragon games categories.
This game brilliantly interweaves elements of monster games and slapdash combat with intricate puzzle-solving drawn from best selling skill games. The result is a riveting gameplay experience that will challenge both your mental dexterity and reflexes in equal measure.
Fire Dragon Adventure
deftly transports players to a bygone era where a valiant hero and his trusty dragon companion must brave treacherous terrain, monstrous adversaries, and cunning traps to amass riches beyond imagination. At its core, it's an epic journey of courage, camaraderie, and perilous quests that promises thrilling gameplay to fans of
knight games
,
monster games
, and captivating
pixel games
.
A unique feature of the game is its split-screen option, allowing you to share this thrilling journey with a friend. This element fortifies it as one of the go-to choices for gamers searching for engaging 2-player games. The complexity of some puzzles requires teamwork, adding another layer to an already robust game.
In conclusion, Fire Dragon Adventure fuses elements of succesful escape games with skill-based puzzles within the context of knightly quests and dragon centric adventure. With its two-player capability, it also serves as an exciting social gaming experience. For those gamers seeking a captivating gameplay experience that tests both skill and strategy, Fire Dragon Adventure should be your next quest!
What are the best online games?