Fatty Ken 2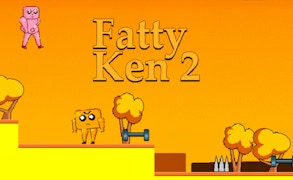 Fatty Ken 2
Description
In Fatty Ken 2, you'll immerse yourself in a thrilling 2D platforming experience. You control a body builder, whose mission is collecting dumbbells while navigating the tricky landscape filled with dangerous obstacles. These include flying creatures, spikes, and ground saws that meticulously spread across the eight challenging levels. The game progressively gets harder as you advance to the next level.
How to play
The game controls are straightforward; you use either "WASD" or the "Arrow" keys for movement. Jump over obstacles by clicking "W" or the "Up" arrow key twice for double jumps. Your primary objective is to collect all dumbbells and reach the finish flag to progress to subsequent levels.
Tips and Tricks
To forge ahead, be patient while calculating your moves carefully around treacherous obstacles. Always take advantage of your ability to double jump, especially when evading flying creatures. Most importantly, keep in mind that every collected dumbbell counts!
Features
Vibrant 2D graphics and engaging gameplay.
A challenging platformer with a variety of obstacles.
Double jump feature adds a unique twist.
Eight progressively difficult levels for maximum fun and replayability.
Packed with action and cleverly designed puzzles.
What are the best online games?