Fashion Superstar Dress Them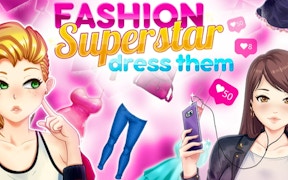 Fashion Superstar Dress Them
Immerse yourself in the captivating world of Fashion Superstar Dress Them, a charming and engaging entry in the realm of Games for Girls. The game is an absolute delight for all fans of fashion games and dress up games, placing you directly in the high-stakes world of fashion styling.
Become a top-tier fashion stylist, crafting stunning looks for your roster of girls who thanks to your sharp style sense and keen eye for trends, are transforming into veritable superstars! It's not just your typical dress up game - it's a glamorous journey blurring the lines between a dream and reality; you're not just dressing the girls, you're shaping their careers.
The most intriguing element is the social network jury of influencers that evaluate your style choices. This adds an exciting layer to the Hairdresser Games and makeup games genres. A high score isn't just about bragging rights - it's currency. The better your girls look, the more diamonds you earn, which can be swapped for alluring new outfits and chic accessories that unlock as you progress.
The options are practically limitless when it comes to how you can dress them like a star. You'll find yourself completely lost in this dazzling world of fashion, glamour, and style. Each item you unlock is a fresh opportunity to redefine what superstar style means on your terms.
So if you are ready to step into a world where dreams become reality and ordinary girls become superstars, step into the enthralling world of Fashion Superstar Dress Them. With its blend of user-friendly gameplay mechanics and dynamic content updates, it retains its novelty while keeping players enthralled day after day.
What are the best online games?