Fashion Style Run 3D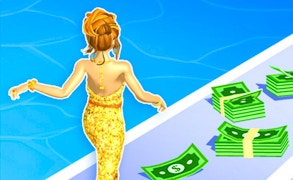 Fashion Style Run 3D
Welcome all arcade enthusiasts! Today we enter the fabulous world of Fashion Style Run 3D, a riveting fusion of running games, fashion games, and money games. This game is a vibrant canvas for all the fans of girls' games. So, if you have an inclination towards style, speed, and savvy, this electrifying platform will keep you hooked.
The concept is simple. You run, you collect, and you get rich! Fashion Style Run 3D isn't just about running endlessly. It's a fashionable race where every collection is a step towards opulence. You get to collect exquisite accessories that translate into money on the track. The ambition? To reach the richness as swiftly as possible.
The game juices up the excitement by promising a luxurious reward. A fabulous car waits for you at the finish line, your chariot to the world of affluence. But this reward doesn't come easy! There are obstacles to dodge and challenges to overcome. Your reflexes will be put to test in this fast-paced chase for wealth.
Fashion Style Run 3D is visually spectacular with its bold colors and chic design elements that perfectly blend with its high-stakes gameplay. The slick user-interface keeps players engaged while offering an easy-to-navigate environment.
In summary, Fashion Style Run 3D is more than just a game - it's an adrenaline-pumping journey clothed in style and dipped in riches! A perfect concoction of fashion and thrill that will satisfy your gaming cravings whether you are a running games veteran or just stepping into the genre.
This arcade masterpiece effortlessly amalgamates elements from running games, fashion games, and money games making it a must-try for every passionate gamer looking for an exciting new gaming experience!
What are the best online games?