Fashion competition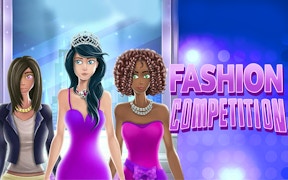 Fashion competition
If you've ever dreamed of transforming into a fashion stylist, our video game review today might just be your golden ticket to the dazzling world of couture. The "Fashion competition", is an exhilarating new addition to the realm of bright, vibrant games for girls.
Fashion Competition sweeps you off your feet and puts you right in the heart of a pulsating, thriving fashion universe. It's one of those innovative dress up games that not only encourages creativity and imagination but also imparts essential fashion lessons. With everything from dazzling dresses to chic rompers, this game seamlessly combines fashion games and makeup games.
Your mission here is quite enthralling: as a budding virtual fashionista, you have to outfit your fashion model with the picture-perfect look for each occasion and contest theme. Be it casual, romantic or chic – your fashion judgement is put to the ultimate test.
The incredible complexity in this game comes with its vast array of choices – from makeup looks and hairstyles all the way to accessories, bags and shoes. And let's not forget about that nerve-wracking fashion diva contest! You're not just throwing clothes on a model; you're crafting an aesthetic expression that needs to win over the judges and the audience.
The Fashion Competition is more than just a game - it's a highly interactive platform where all lovers of trendy and fancy clothes can explore their unique sense of style. If you ever wanted to become a personal stylist or have been searching for enthralling dress up games online, look no further than this gem!
This revolutionizing game provides a compelling look into what being a real life stylist feels like. Through this exciting world of theory-of-mind dressing strategy, pickup and play design ethos, visual acuity tests and personal taste expression, it has set itself apart as clear winner among many other popular dress up games for girls.
What are the best online games?