Fantasy Sniper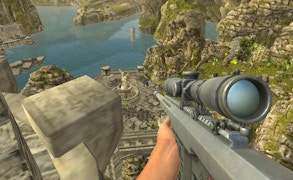 Fantasy Sniper
Enter the mystical realm of Fantasy Sniper, a unique fusion of sniper games and monster games that delivers an unparalleled gaming experience for thrill-seekers and fans of mythical creatures alike. With its immersive narrative and cutting-edge graphic design, this game expands the boundaries of what you thought was possible in gun games.
Nestled within a sprawling fantasy world, each level challenges you to master your modern sniper rifle's intricate mechanics. Your goal? To engage, outsmart, and silence an array of fantastical beasts. It's not just about pulling the trigger; it's a test of patience, precision, and strategy - an exciting twist on traditional hunting games.
The immersive graphics bring a new depth to Fantasy Sniper. Every creature is designed with painstaking detail, each more awe-inspiring than the last. It's more than just a game - it's a plunge into an otherworldly reality where mythical monsters roam free. This attention to detail makes for an adrenaline-inducing gaming environment that caters to those who appreciate aesthetically tantalizing gunplay.
Fantasy Sniper strikes an excellent balance between nail-biting tension and exhilarating action. The thrill of tracking your prey followed by the satisfaction of a successful shot is what sets this game apart from other gun games on the market. The perfect combination of a sniper game in a fantasy setting will keep you on edge while submerging you into its world.
In conclusion, whether you're hunting high-level monsters or honing your sniper skills against lower-level foes, Fantasy Sniper offers something for everyone. Its high-quality graphics combined with the suspenseful gameplay make it one of the top picks when it comes to sniper games, hunting games, or monster games.
What are the best online games?