Fairy Princess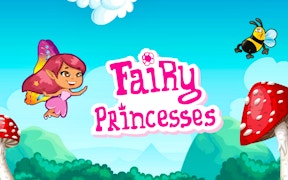 Fairy Princess
Step into a world filled with magic and wonder in the enchanting Fairy Princess game - a charming addition to the Games for Girls category. This captivating game marries elements of Princess Games, dress up games, and Hairdresser Games, offering an elevating gaming experience that is sure to delight its young audience.
The Fairy Princess needs your expert fashion advice: it's not just about choosing an outfit, but conjuring up an entire enchanted look. As a budding fashionista, you'll love all the stylistic possibilities this game presents. The journey through fantastical wardrobes is an adventure in itself, cleverly blending creativity with gameplay.
Both the wardrobe and accessories sections are filled to the brim with sparkling dresses, whimsical tops, dreamy skirts, and more. The beautiful graphics make every piece seem like a treasure from a fairy tale making this game among the top tier of dress up games. Accessorizing is another delightful challenge - crowns, wands, wings, necklaces– every item holds potential to elevate your outfit from ordinary to extraordinary.
The fun doesn't stop at dressing; step into the hairstylist's chair and get creative as it exemplifies the charm of traditionalHairdresser Games.
In conclusion, Fairy Princess enthralls its players through stunning visuals, imaginative gameplay elements and an unmissable opportunity to express their unique creativity. It's no mere game; it's a fantastical journey where every player can weave their own fairy tale. This standout offering amongGames for Girls will have young players returning time and again for another dive into its magical world.
What are the best online games?