Face Paint Salon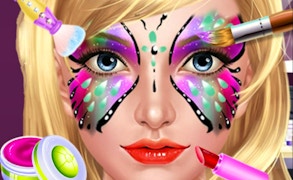 Face Paint Salon
Slip into a world bursting with color and creativity with the enchanting Face Paint Salon, the perfect gateway for little fashionistas aspiring to make their mark in the realm of beauty and design. With a strong focus on fostering creativity, this game fits snugly into the categories of games for girls, fashion games, and makeup games.
In an unruffled blend of fun and learning, Face Paint Salon encourages its players to sketch their own cool, quirky and cute face doodles. The game intricately merges the strokes of creativity with a splash of humor, making it an engaging platform for girls to test their innovative skills. It's like hosting your own painting party, minus any mess - a delightful proposition indeed!
The game's interface is delightfully user-friendly and approachable, making it an ideal choice for budding artists who are just beginning to understand the nuances of design or makeup. As players navigate through the kaleidoscope of themes available on the app, they maneuver through myriad hues and tones; diving deeper into the ocean of vibrant possibilities that makeup games offer.
Busy moms needn't worry either! Face Paint Salon is educationally beneficial too. Whilst creating their fun party designs from scratch, kids also hone their fine motor skills and color coordination abilities. So parents can sit back with a cuppa whilst their little Van Goghs unleash their creative genius on this digital canvas.
To sum it up, for anyone seeking an enjoyable yet stimulating experience in fashion games, Face Paint Salon paints quite a portrait. Empowering young girls to express themselves through art; it's more than a game – it's an artistic journey waiting to be embarked upon.
What are the best online games?