Face Paint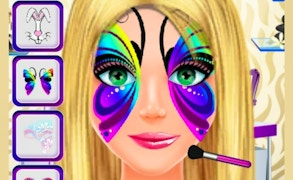 Face Paint
Embrace a colorful universe of creativity, style and fun with Face Paint, a standout amongst games for girls. Immerse yourself in exciting gameplay that involves fashion games, drags you into the charming world of drawing games, and lets you flaunt your flair in dress up games and makeup games.
Crafted with love, Face Paint is not just another title in the endless sea of fashion games; it's a vibrant spectrum of creativity waiting to be explored. With its innovative combination of dress up and makeup games, it ensures that our young fashionistas are set for hours of pure enjoyment.
What makes Face Paint tick isn't just its interactive gameplay salons, but the freedom it offers. Take part in designing stunning outfits in the dress up games salon, or swish your virtual brush to create dazzling designs in the drawing games salon. Not forgetting the makeup games salon where shimmering eye-shadows meet glossy lipsticks to bring out the diva within your avatar!
The game goes a step further by offering multiple girl skins. Whether you fancy trying a quirky look or prefer to stick with classic beauty, Face Paint has got you covered. And no worries about getting bored; the variety will keep you coming back for more!
In essence, if you're searching for exciting games for girls, preferably a fun blend of drawing, dress up and makeup games – look no further than this gem known as Face Paint. It's a vibrant canvas inviting you to paint your style and express your vivacious spirit! This game doesn't just cater to your gaming needs - it quenches your thirst for creativity as well!
So grab your virtual brush and start creating magic on the canvas called Face Paint – where fun meets fashion!
What are the best online games?