Expression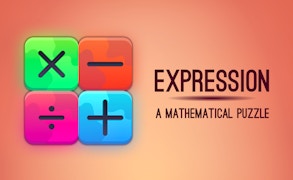 Expression
Description
In Expression, you will discover a new way of having fun with numbers and math! This unique puzzle requires you to create mathematical expressions out of the given tiles, correctly matching them to the result shown on the lower part of the screen. Utilize all available tiles for a correct expression and earn a skip point, offering you an opportunity to pass a challenging level.
How to play
Simply click or tap on the available tiles to form a mathematical expression equivalent to the displayed result after the "=" sign. The game challenges your mathematical skills and logic at each level. Collect skip points by using all available tiles in a correct equation - these allow you to bypass tough levels.
Tips and Tricks
To excel in Expression, it's essential to keep your math knowledge fresh. Always consider all possible combinations before making a decision - it can be helpful to use paper and pencil for complex levels. Don't forget that using all tiles in an equation gives you valuable skip points!
Features
Puzzle-based gameplay: Engages your mind with logical and mathematical challenges.
Skip Points: Use all tiles for correct expression, earn skip points, and advance easily through difficult levels.
Educational: A fantastic way for both kids and adults to brush up on their maths skills within an entertaining context.
Addicting: The escalating difficulty level keeps players hooked until end.
What are the best online games?