Escape Plane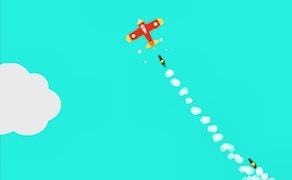 Escape Plane
Immerse yourself in the exhilarating world of Escape Plane, a riveting entry in the genre of airplane games. This is not just any flying game; it's an adrenaline-packed survival ordeal where you'll be forced to navigate through treacherous enemy territory, trying to evade an onslaught of missiles aimed at obliterating your plane from the sky.
In Escape Plane, you are thrown headfirst into a deadly storm of destruction. Your plane has wandered deep into enemy airspace. The enemy is ruthless and relentless, doing anything and everything within their power to eviscerate your sky-bound vessel. Your mission? Outmaneuver them all, using guts, guile and your aircraft's nimble agility.
This game takes the thrill and suspense associated with flying games to new heights (pun intended). It's reminiscent of classic arcade-grade escape games, testing your reflexes and decision-making skills under pressure. Its high-intensity gameplay keeps you on your toes, ensuring that there's never a dull moment.
The controls are easy-to-master but hiding beneath this simplicity is a layer of complexity that offers endless hours of engagement. A tap here, a swipe there - integral maneuvers that could mean the difference between soaring through the sky or plummeting down in a fiery blaze.
Escape Plane is not just about survival; it's about outliving your enemies in their own backyard. If you're searching for intense airplane games, riveting escape games, or adrenaline-inducing flying games, look no further. Strap yourself in, prepare for turbulence; your journey in Escape Plane is going to be one wild ride.
What are the best online games?