Equestria Girls First Day at Highschool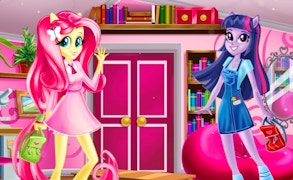 Equestria Girls First Day at Highschool
Welcome to the vibrant world of Equestria Girls First Day at Highschool, a game specifically designed keeping in mind the interests of little fashionistas. This delightful addition to the Games for Girls genre effortlessly combines elements of fashion games, dress up games, Hairdresser Games and even some exciting hidden object games.
As autumn leaves begin to fall, our little Equestria Girls find themselves back in school. But this is no ordinary first day; it's a new high school and they need your help navigating this unique event! You step into the stylish shoes of their personal designer, crafting an appropriate outfit that sings 'High School, here I come!'.
The game is teeming with creativity! It isn't just about dressing up; it's about expressing style and personality. From chic autumn clothing to cool accessories, the fashion choices are endless. Adding a pair of cute shoes is a must – remember, comfort is key when it comes to trotting down high school corridors.
But that's not all; the hidden object aspect brings another layer of thrill to the game. The Equestria Girls have misplaced some essential school tools and it's up to you to find them in time for class. The fun begins once you've dressed your girl in her perfect first-day outfit and found all hidden objects.
Equestria Girls First Day at Highschool is more than just a game - it's an adventure into style, creativity, mystery-solving wrapped up in one fantastic package. This game promises exciting gameplay adorned with colorful graphics – making it perfect for any young girl looking for an entertaining and engaging game.
What are the best online games?