Epic Rivals Battle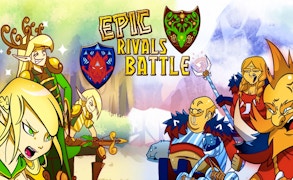 Epic Rivals Battle
Immerse yourself in the enthralling world of Epic Rivals Battle, an action-packed extravaganza of battle games that takes you on a rollercoaster ride of strategy, exhilaration, and thrill.
This game is not just about brute force - it's a work of art that combines elements of strategy, tactics, and cunning. The game has you stepping into the shoes of an omnipotent leader, deciding the fate of either elves or dwarves. With 20 gripping levels, each more challenging than the last, Epic Rivals Battle offers a rich and varied gameplay rarely seen in other sword games.
One of the most riveting aspects is its unique 'spin-the-wheel' feature. By spinning the wheel, you can deploy your warriors on the battlefield, creating an element of unpredictability that keeps your opponents guessing. But there's more! You can slay your foes or even steal their soldiers – every decision you make has far-reaching implications in this high-stakes world.
The game offers immense replayability with its dynamic system of building defensive walls and invoking magical spells. Each wall erected or spell cast can be a game-changer. This innovative blend of strategy and action sets Epic Rivals Battle apart from other battle games.
In Epic Rivals Battle everything is beautifully crafted- from its engrossing storyline to its detailed world-building; from its meticulously designed characters to its captivating sound design.
In conclusion, Epic Rivals Battle lives up to its name by delivering epic battles filled with tension and excitement. Whether you are a fan of battle games or sword games, this game is bound to leave you spellbound with its intriguing gameplay mechanics and compelling narrative. Are you ready for an epic clash of powers? Step into this fascinating world and brace yourself for an unforgettable experience. Keywords: Action Game Review, Battle Games Review, Sword Games Review
What are the best online games?
Tags