Ellie and Annie Doll House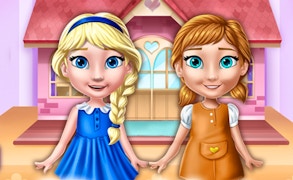 Ellie and Annie Doll House
Immerse yourself in a world of creativity and fun with Ellie and Annie Doll House, an enchanting game combining elements of popular Games for Girls, Princess Games, Dress Up Games, and Fashion Games.
This vibrantly colored, fashion-forward game invites young gamers to live out their interior design dreams. As the girls prepare to put their enchanting home on the market, you step into the whimsical world of decoration, helping each little girl pick the perfect combination for their little houses.
In the great tradition of games for girls, Ellie and Annie Doll House encourages creative self-expression and the exploration of individual style. The intricate dollhouses are your canvas as you dabble with delightful combinations of furniture, colors, patterns, and more! Carefully choose every detail to create a fashion statement.
The seamless blend of designing your princess's dream home and the intricate dress-up elements sets this game apart. This is not just one of your typical princess games. It is more than just choosing dresses or decorating rooms. It is about fusing these two elements together to create a compelling gaming experience.
The game's intuitive controls make it easy for kids to navigate through different rooms and fashion options. Combined with attractive graphics and delightful characters, Ellie and Annie Doll House leaves an unforgettable impression that would have kids returning for more replay value.
The fusion of style, creativity, charm and strategy in Ellie and Annie Doll House make it an unrivaled addition to the world of online fashion games. Immerse yourself in this fabulous blend of creativity, strategy, and glamour today!
What are the best online games?