Eliza Mermaid VS Princess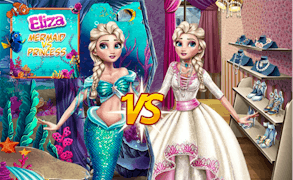 Eliza Mermaid VS Princess
Step into a dazzling world of fantasy and fashion with Eliza Mermaid VS Princess, an enchanting new addition to the realm of games for girls. Teeming with glitz, glamour, and delightful gameplay, this title emerges as a standout amidst other mermaid games and princess games on the market.
In this game, our protagonist Eliza, a unique blend of royalty and mythical sea-creature, introduces you to two distinctive universes - the undersea kingdom and the grand palace. Each world is rich in detail, delivering immersive experiences that stimulate your imagination. The task for you? Dress up Eliza for celestial events in both her princess and mermaid avatars.
Dive into the colorful depths of the oceanic world in the role of Eliza as a Mermaid. From flamboyant fish tails to sparkling seashell accessories, the fashion options are limitless. This captivating part gives you a taste of dress up games and provides an outlet to express your creativity on the aquatic runway.
Switch over to our girl's princess persona and allow her to reign supreme in majestic gowns or chic royal attire. This seamless juxtaposition of Princess Games within Eliza Mermaid VS Princess provides an exciting dimension to its gameplay that keeps players engaged.
You are also cordially invited to play hairdresser with Hairdresser Games, integrated within this fashionista fiesta. From chic chignons for Princess Eliza to flowing mermaid waves, create hairstyles that complement her outfits perfectly!
In essence, Eliza Mermaid VS Princess is not just another addition to mermaid or princess games; it's a high-end fashion extravaganza designed to entertain young minds. It's where creativity runs wild amidst shimmering scales and royal robes; it is indeed one of those perfect blend of fashion games that girls will love!
To sum up: whether you prefer our girl as a mystic mermaid or regal princess - it's about you having fun! So why wait? Ascend the throne or rule the waves with Eliza Mermaid VS Princess today!
What are the best online games?