Egg Hill Climb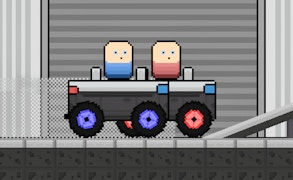 Egg Hill Climb
Description
Welcome to Egg Hill Climb, a pulse-racing action-adventure game where you and your teammate are on the run after a successful bank heist. The goal is simple - reach the finish line with your stolen treasure. However, teamwork is crucial as you can't stray too far from each other. With a path packed with coins to collect and safes full of money to snatch, your adrenaline will be pumping non-stop.
How to Play
Navigate through the levels using your device's controls. Always stay within close proximity of your teammate otherwise you risk losing the mission. Along your escape route, collect as many coins as you can and don't forget to grab the red and blue money boxes at the end of each level. Securing two safes full of money is key to completing levels.
Tips and Tricks
Remember that in Egg Hill Climb, teamwork is paramount - you must balance speed with staying together. Try to plan ahead and anticipate obstacles so that you can seamlessly collect coins and grab safes without falling behind or separating too drastically.
Features
Challenging gameplay that requires strategic teamwork and quick decision making.
Exciting bank heist theme that keeps players engaged and on edge.
Coin collection system for added goals during gameplay.
Vibrant graphics that enhance the overall gaming experience.
What are the best online games?