Eat Money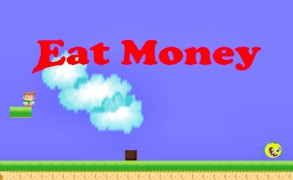 Eat Money
Description
In Eat Money, you're dropped into an exciting adventure, filled to the brim with hidden passages, block parkour, and fierce enemies. The game is set in an engaging pixelated environment where your mission is to find 12 hidden coins. Designed for impeccable play on both PC and mobile devices, Eat Money provides a thrilling gaming experience that's as addictive as it is challenging.
How to play
Eat Money's controls are effortless to use. Move your character using the arrow keys or touch controls on your mobile device. Your goal is to navigate through different levels, overcoming obstacles, evading enemies and finding secret passages. The ultimate objective in each level is to find and collect all 12 coins to advance further into the game.
Tips and Tricks
An effective strategy in Eat Money is making use of the secret passages. These shortcuts not only help you steer clear of enemies but also get you closer to your precious coins quickly. Always stay alert for shifting blocks - they can be part of your parkour route!
Features
The game includes:
Exciting Adventure Setting: Engage in an exciting mission filled with twists and turns.
Parkour Mechanics: Use blocks as a means of transportation using exciting parkour moves.
Cross-Platform Compatibility: Play seamlessly on either PC or mobile devices.
Pixellated Graphics: Enjoy a fun retro-style gaming environment.
What are the best online games?