Dumbocalypse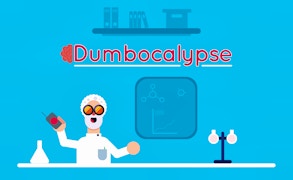 Dumbocalypse
Description
In Dumbocalypse, you're tasked with saving humanity from the unintended consequences of Professor Brain's botched experiment. The professor created waves intended to enhance intelligence, but instead, they turned everyone who came into contact with them incredibly dumb. Now, through a specially created app, it's your job to answer people's questions and guide them through their everyday lives.
How to play
Your main responsibility in Dumbocalypse is answering questions posted on the app by the affected individuals. To maintain a balance on earth, your responses should not overly populate or endanger humanity. Your advice should neither make them too happy nor too sad. You'll need to strike a fine balance for survival.
Tips and Tricks
Remember that your answers shape the future of humanity in Dumbocalypse. Consider each question carefully before you respond. Balance is key - avoid extreme responses that could tip the scales towards happiness or sadness, overpopulation or extinction.
Features
A unique and challenging scenario that puts humanity's survival in your hands.
A fascinating combination of trivia and strategy gameplay elements.
The chance to shape the fate of an entire planet with your answers.
An engaging story revolving around Professor Brain's disastrous experiment.
What are the best online games?
Tags