Dress Up The Lovely Princess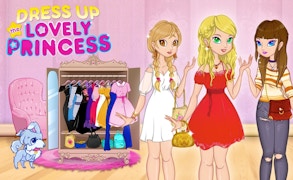 Dress Up The Lovely Princess
Dive into the enchanting world of royalty with Dress Up The Lovely Princess, a whimsical treat amongst Games for Girls. This dress up game speaks to the imagination of every young fashionista, feeding their dreams of sparkling gowns, glittering crowns, and dominating the court with their style supremacy.
Like a dazzling gem amongst the sea of dress up games, Dress Up The Lovely Princess not only invites you to tap into your fashion prowess but also enthralls you with the allure of stepping into a princess's shoes. It's time to reveal your hidden talent for royal fashion.
The game beautifully converges different gaming categories, from being a precursor in Fashion Games to offering elements typically found in Hairdresser Games and Makeup Games. Designing intricate hairstyles and applying exquisite makeup looks adds another layer of fun and creativity to the engaging princess couture journey this game offers.
In Dress Up The Lovely Princess, every stitch, curl, and dash of makeup is an opportunity to express your unique style. This is not just a game; it's a stage where you unfold your own version of elegance, essentially becoming an influencer for royal fashion trends.
In essence, it's one of those captivating Princess Games that simultaneously unleashes creativity and provides endless entertainment. It's not just about dressing up; it provides an experience - an encounter with regality! So embrace your inner princess today by playing Dress Up The Lovely Princess and let your fashion fantasies run wild!
In conclusion, this game is not merely about donning beautiful clothes—it's about immersing oneself in the kaleidoscopic universe of royal fashion flair. And remember: Every princess deserves to be loved; prove that you are one by showing off your definitive style!
What are the best online games?