Draw Weapons Rush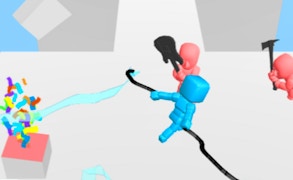 Draw Weapons Rush
Wield your creative prowess in the heat of battle with Draw Weapons Rush, an exhilarating new entry in the bustling world of arcade games. Perfectly merging elements of drawing games, running games and battle games, Draw Weapons Rush crafts an intense, thrill-filled gaming experience that keeps players on the edge of their seats.
The key to surviving lies in a simple yet revolutionary concept: drawing your own weapons. No weapon is too outlandish, no shape too impractical. The power to turn the tide of battle rests at your fingertips, bringing a unique twist to the usual run-and-gun arcade experience. Whether it's a razor-sharp sword or a massive hammer, your imagination sets the limit!
However, Draw Weapons Rush does not just stop at inventing weapons. The game lets you choose between two different types of weapons at any given time. This adds another layer to the strategy and requires quick decision-making skills, as well as nimble fingers. Your weapon choice can greatly affect how you tackle incoming enemies and survive until the end.
In conclusion, Draw Weapons Rush effortlessly combines varying gameplay elements from drawing to running and battling with stunningly smooth graphics and intuitive controls. It's more than just an arcade game - it's a test of creativity under pressure, nimbleness, and strategic thinking that will keep you coming back for more.
If you're ready to plunge into this captivating world where artistry meets adrenaline-pump action, then prepare your best battle stance and let your creativity run wild in Draw Weapons Rush!
What are the best online games?