Draw Tattoo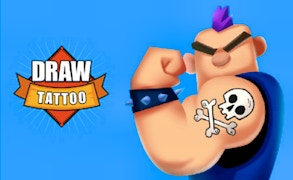 Draw Tattoo
Step into the vibrant world of Draw Tattoo, an immersive journey into the realm of creativity. A standout amongst arcade drawing games, Draw Tattoo will challenge even the most talented scribbler, while offering hours of entertainment to casual gamers and art enthusiasts alike.
This inventive game serves up a unique twist to conventional coloring games by giving players the exhilarating experience of transforming their simple drawings into stunning tattoos. Feel the thrill as your artwork etches itself into pixel skin, turning lifeless outlines into masterpieces teeming with color. This isn't just drawing; it's taking your creative expression to a whole new level.
Draw Tattoo oozes satisfaction; with every precise aim, your needle points and fills in shapes, beautifully coloring them in an awe-inspiring display of craftsmanship. The game's addictive design will keep you coming back for more, mastering your precision and accuracy as you get better with each passing play session.
The allure doesn't stop at the gameplay experience. One of the distinguishing features that sets Draw Tattoo apart from other drawing games is its visually striking interface. Every line drawn, every color filled brings with it a sense of gratification that is rare in this genre of games.
In conclusion, Draw Tattoo doesn't just revolutionize the world of drawing games; it pushes the boundaries for what a player can experience within a game. Whether you're an aspiring virtual tattoo artist or simply someone who enjoys indulging in a bit of coloring now and then, Draw Tattoo offers something for everyone. Sit back, relax, and let your creativity take the wheel – who knows where it could take you?
What are the best online games?