Draw Pixels Heroes Face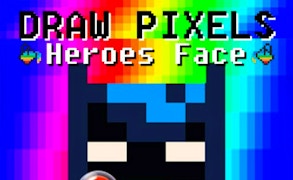 Draw Pixels Heroes Face
Unleash your child's innate creativity and precision with the captivating kids puzzle game, Draw Pixels Heroes Face. This innovative masterpiece effortlessly combines elements of drawing games, pixel games, and coloring games, creating a unique melting pot of art and logic that children can indulge in.
The game's primary objective is deceptively simple; mimic the image provided by placing the right color in the corresponding grid, one pixel at a time. However, lurking beneath this charming simplicity is a challenging and engaging puzzle game experience that will hook your kids for hours on end.
The fusion of drawing games and pixel games in Draw Pixels Heroes Face offers a delightful platform for your kid to express their imagination while simultaneously honing their attention to detail. The enthralling coloring sequences are not only visually pleasing but also intellectually stimulating, developing problem-solving skills in young minds.
In the grand scheme of Games for Kids, Draw Pixels Heroes Face stands tall with its unique blend of artistry and critical thinking. It is not just another drawing game. It's a medium where pixels meet paints, creating beautiful symphonies of colors while constructing adorable pixelated heroes. More than a game, it's an artistic journey that introduces children to the world of pixel artistry in the most engaging and fun manner imaginable.
If your child has an eye for both art and logic puzzles or you're simply looking to introduce them to the creative world of pixel-based drawing games, then Draw Pixels Heroes Face is an absolute must-have! Immerse your little ones into this mesmerizing universe of colorful pixels today!
What are the best online games?