Draw Game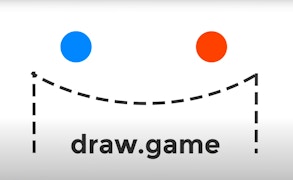 Draw Game
Description
Welcome to Draw.Game, a physics-based puzzle game that combines strategy, creativity, and ingenuity. This innovative game features hundreds of levels, each offering a unique challenge. Your mission is to draw lines and shapes to navigate two small dots through a variety of obstacles and reunite them. With its intuitive design and simple mechanics, Draw.Game is both engaging and challenging.
How to Play
The game revolves around the use of your mouse or touchpad. Press down to start drawing lines or shapes on the screen that will guide your dots towards each other. The game progresses as levels become more complex, requiring you to utilize spatial reasoning and problem-solving skills. Remember, every moving object in this game follows real-world physics!
Tips and Tricks
Experiment with different shapes - sometimes a simple line may not be enough. Also, consider the effect of gravity on your drawings. Overcoming the physics-based obstacles may require ingenious solutions - think outside the box! Lastly, be patient as some levels do require trial and error.
Features
Hundreds of unique levels with varying difficulty.
An intuitive drawing mechanism for smooth gameplay.
A dynamic physics engine for realistic movement.
New levels added regularly for continuous challenges.
Suitable for all ages - providing both entertainment and mental exercise!
What are the best online games?