Dragon Battles Multiplayer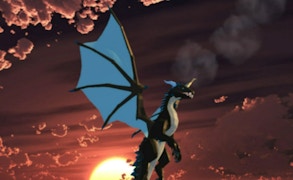 Dragon Battles Multiplayer
Soar through the skies and dive into the immersive world of Dragon Battles Multiplayer, a cutting-edge 3D dragon simulator game that places you right in the center of heart-pounding PVP clashes. One of the best dragon games on the market, Dragon Battles Multiplayer adds fire to the genre with its thrilling survival games aspects.
The game's controls are as intuitive as they are smooth - from flying with the Space bar, to launching a destructive fireball attack with a simple click of the mouse. The WASD or arrow keys move your dragon, while other commands like Q for jump, R for dodge and Shift+Left Mouse click for fire breath add more depth to your battle strategy. This game offers a captivating mix of skill games and battle games, ensuring a unique gaming experience every time.
Whether you're battling other dragons in PVP matchups or finishing off AI characters that shoot from the ground, strategy is key. You'll need to dodge, sprint using L Shift and duck using C to stay alive in this harsh environment. Survival has never been so intense in this standout among flying games.
Beyond combat, Dragon Battles Multiplayer builds a sense of community through its chat feature (T) and keeps players engaged with its interactive map (M). Need to pause? No problem - just hit Esc/Tab. Whether you're an avid fan of dragon games or just looking for some exciting survival strategies, Dragon Battles Multiplayer delivers adrenaline-fueled fun around every corner.
Essentially when it comes to survival games mixed with flying games this one truly roars above the rest. So strap-in, take flight and dive into one of today's hottest battle games - Dragon Battles Multiplayer!
What are the best online games?