Dracula, Frankenstein & Co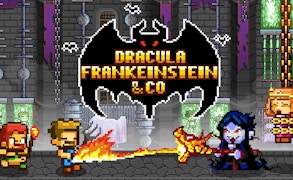 Dracula, Frankenstein & Co
Step into a world where creatures of the night are heroes, in the vivid pixel world of Dracula, Frankenstein & Co, a thrilling addition to your collection of shooting games. This is not just another one of those ordinary monster games. It's a unique blend that merges the thrill of battle games with an aesthetic that is reminiscent of classic retro games.
In this fantasy pixel universe, players get an opportunity to embody some of the most iconic monsters in lore - from Dracula and Frankenstein to a werewolf and a mummy. These aren't just simple battles; they're survival struggles against an onslaught from seemingly ordinary humans who have decided to turn hunters.
The game offers a refreshing take on traditional battle mechanics by introducing elements straight from sword games. Each monster comes with its own unique abilities and weapons – making every gameplay uniquely thrilling.
The villagers are not to be underestimated either. They come armed with their own BOSSes, who are just as challenging. As you delve deeper into the game, you will find yourself immersed in epic battles for survival where only your skill and quick thinking will keep your monster character alive.
Dracula, Frankenstein & Co hooks you with its vast array of features across both its single-player campaign and multiplayer modes while offering a rich, nostalgia-inducing experience for fans of pixel and retro games.
Every corner of this game has been designed to cater to fans looking for something different in monster games. It's an exciting amalgamation of genres that takes familiar elements and repackages them into something truly extraordinary and memorable.
In closing, if you're looking to steep your gaming experience with nostalgia while experiencing adrenaline-pumping action — Dracula, Frankenstein & Co should be on your radar. There is no doubt that this game will grow on you as you delve into its rich world filled with iconic monsters enduring never-ending cycle of battles.
What are the best online games?