Dotted Girl Coloring Book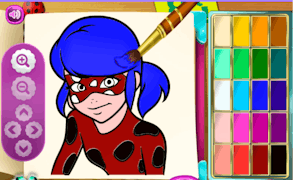 Dotted Girl Coloring Book
Get ready to immerse yourself in a world of color and creativity with Dotted Girl Coloring Book, a game that satisfies both your love for drawing games and coloring games. This title is a beacon of enjoyment, especially designed games for kids, but also appealing to anyone who loves to add their personal touch to vibrant illustrations.
Dotted Girl Coloring Book allows you to solo venture with the phenomenal superhero, Dotted Girl, through an incredible journey. With every page turned in this coloring book, players discover a new facet of her exciting world. Much like uncovering hidden gems in a fantasy island, this part of the adventure ensures no two experiences are identical.
The real magic begins when you pick your favorite drawing. It's like having an empty canvas where you can paint the Universe or a bare garden where you can plant all types of colorful flowers. You take hold of an array of wonderful colors and transform the black and white sketches into vibrant masterpieces reminiscent of Monet's Water Lilies or Van Gogh's Starry Night.
The additional option to add glitter wakes up the inner artisan in every player. This feature transforms regular drawings into sparkling versions much like stardust sprinkled over a moonlit sky. Seeing your completed works throughout the whole book is akin to witnessing your personal art gallery come alive - nothing short of spectacular.
Dotted Girl Coloring Book is not just one of many generic games for girls. It crosses boundaries providing fun for all genders and age groups. The game encourages creativity, making everyone remember how awesome it feels to create something uniquely beautiful. Playing Dotted Girl Coloring Book is like riding on clouds made of rainbows - an experience so delightful you'd wish it never ends!
What are the best online games?