Doomsday Shooter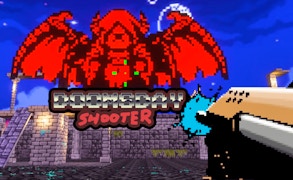 Doomsday Shooter
Description
In Doomsday Shooter, you find yourself battling evil forces in a pixelated world. Armed with an impressive variety of 11 weapons, exterminate enemies ranging from demonic creepers to lethal plants. Each enemy unit is unique and requires a specific strategy. This game fuses fast-paced dynamic action with engaging gameplay, ensuring an exhilarating experience.
How to play
The controls are simple and intuitive with the mouse being used for aiming and firing, while the keyboard controls your movements. Swap between weapons using number keys, allowing you to adjust your combat style as the situation dictates. Progression in Doomsday Shooter relies on successfully eliminating opponents and defeating the prince of darkness at the end.
Tips and Tricks
Identifying enemy types quickly is crucial in Doomsday Shooter. Each has its own weaknesses that can be exploited by different weapons. Be aware of kamikazes; they can inflict severe damage if they get too close. Remember that you're not invincible, keep moving to avoid being hit.
Features
Pixelated Graphics: Delivering a nostalgic gameplay experience.
Vast Arsenal: Choose from 11 different weapons tailored to different combat styles.
Diverse Enemy Types: From deadly kamikazes to poisonous plants, every enemy brings unique challenges.
Addictive Gameplay: Designed for players who love fast-paced shooting action.
What are the best online games?