Don't Stop!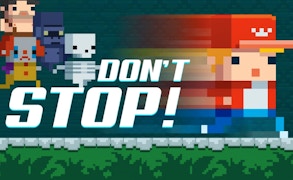 Don't Stop!
Set your eyes on the vibrant and thrilling world of Don't Stop!, an adrenaline-packed, pixel games masterpiece that plunges gamers into an enthralling action-driven quest. Your mission: outwit frightening foes, collect map pieces and chase down a fortune.
Vibrantly designed with a blend of retro and modern gaming's best aspects, Don't Stop! is a fascinating addition to the world of fun games, and it's a must-play for those who crave the rush of relentless action. Part treasure hunt, part survival game, it seamlessly blends elements of suspense and problem-solving to keep you on the edge of your seat.
The competition for the treasure against monstrous predators gives Don't Stop! its biting edge. These aren't your typical in-game enemies. They're clever, they're unpredictable, and their icy determination matches yours. Successfully navigate through the danger they infuse into every level to emerge as the triumphant treasure hunter.
The pixelated graphics are not only immediately striking but also serve as a charming nod to old-school gaming nostalgia. Yet don't be fooled by their simplicity: these visuals play an integral part in creating this game's distinct atmosphere.
Don't Stop! stands above other pixel games due to its ability to harmonize simplicity with complexity – providing an easy-to-understand gameplay mechanism featuring challenging scenarios that require strategic planning and quick reflexes.
Don't Stop!: where every second matters, where every decision can lead you either to gleaming victory or crushing defeat; it's not merely about finding the treasure – it's a race against time itself.
What are the best online games?
Tags