Doll Designer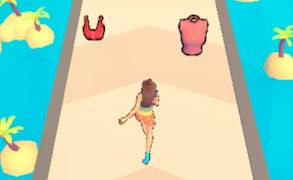 Doll Designer
Step into a world of fashion, glamour and endless creativity with the remarkable arcade game, Doll Designer. With a whimsical blend of moda and adventure, this game is an exciting addition to the realm of running games, fashion games, and hyper-casual games. Not to mention, it's a delightful inclusion in the assortment of fantastic games for girls.
Doll Designer is more than just your typical running game. Here, you're not merely sprinting through undulating courses; you're strutting down virtual runways. As you dash through each level, you take on the challenge of collecting stylish clothes and glitzy decorations under fast-paced play rules. However, much like real life fashion shows, this isn't a mindless grab-whatever-you-see frenzy. You need to follow the pointed performance and collect items that match your doll's aesthetic.
As you dress your doll in various chic ensembles collected along the way, it becomes an immersive hybrid between casual running games and absorbing fashion games. The thrill intensifies as you need to snag over 75% of correct items in each level before experiencing the satisfaction of completion.
Doll Designer pushes boundaries as it marries elements from multiple genres with style and panache into one cohesive package that creates an enchanting gaming experience. It keeps its players hooked with its simple yet engaging mechanics, striking visuals, and thrilling gameplay loop.
All in all, Doll Designer offers an innovative twist on running games while creating a vibrant atmosphere abundant with fashionista vibes. Whether you adore beautiful dolls or have a penchant for fast-paced action games - it offers something for everyone. So get ready to unleash your inner designer; it's time to have a good time with Doll Designer!
What are the best online games?