Dizzy Donut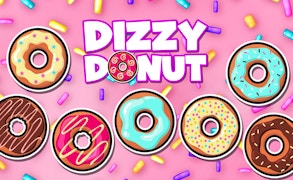 Dizzy Donut
Description
Get ready to play Dizzy Donut, a game that takes you on a whirlwind of fun! This game challenges your memory, speed, and skills. You'll have to keep an eye on wacky, spinning donuts and match them as quickly as possible. The game's cute graphics and smooth gameplay enhance the experience, while three levels of difficulty increase the challenge over time. Will you be able to stay up-to-date with these quirky donuts without making a mistake?
How to play
To play Dizzy Donut, simply tap on the donuts to match them. The faster you match, the better your score! The memory test feature checks how good your memory is by having you recall the order of the donuts. Keep sharp and focused; you don't want to lose track because there is no loading time between levels!
Tips and Tricks
Become a master at Dizzy Donut by carefully watching each donut before it starts spinning - memorize its look and position. Then wait for it to stop and tap as soon as possible. Don't rush too much; accuracy is more important than speed! And always aim for perfect matches.
Features
Memory Test: Best way to check your recollection capacity.
Cute Graphics: Enjoyable visuals that keep players engaged.
Smooth Gameplay: No lags or delays for uninterrupted fun.
No Load Times: Constant action with zero waiting time between levels.
Varying Difficulty Levels: Three levels let you gradually up the challenge.
What are the best online games?