Dinosaur Memory Match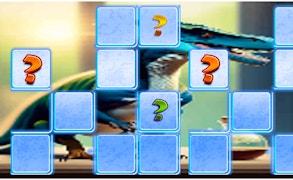 Dinosaur Memory Match
Description
Dive into the world of prehistoric creatures with Dinosaur Memory Match! Enjoy an interactive twist on traditional puzzles as you reassemble scattered blocks to reveal fabulous dinosaur images. It's a test of memory and attention, as you will need to recall the original image while manipulating the tiles. The task at hand is to arrange these tiles correctly and unlock the complete picture. Get ready for a thrilling puzzle experience with Dinosaur Memory Match!
How to Play
Move the pieces by touching or clicking on them. Individual tiles can be maneuvered around until they fall into their correct positions, forming a complete dinosaur image. As you progress, puzzles will become more challenging, requiring more complex solutions. Be alert, stay focused, and let your memory guide you in solving these entertaining puzzles!
Tips and Tricks
Try to memorize the initial arrangement of the picture before starting to move the tiles. This can provide you with a helpful reference for when things get tricky. Also, try getting corner pieces into place first; this approach often makes it easier to solve the overall puzzle.
Features
Mind-stimulating gameplay: Engage your brain and stimulate your memory in an enjoyable way.
Diverse dinosaur puzzles: Encounter various dinosaurs across multiple exciting levels.
User-friendly interface: Easy touch or click controls make it accessible for players of all ages.
No time limit: Experience stress-free gaming without any time constraints.
What are the best online games?