Dinosaur Coloring Pages Kids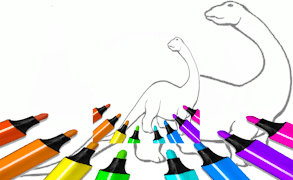 Dinosaur Coloring Pages Kids
Description
Immerse yourself in the prehistoric world with Dinosaur Coloring Pages Kids. This fun-filled, creative game lets you color and draw a broad range of dinosaur images, creating your unique masterpiece. Whether it's a playful pterodactyl or a majestic T-Rex, explore your artistic skills and let your imagination run wild. Perfect for children and adults alike, it's a great way to unwind, relax, and enjoy some colorful escapism.
How to play
Using a simple interface, choose from an array of dinosaur images to color in. Select your desired brush size, embrace different shades of color from the palette, and even experiment with various textures. There's no right or wrong here; it's all about enjoying the process and letting your creativity shine. When you're done, you can even save your art piece.
Tips and Tricks
If you're unsure where to start, try sticking to traditional colors first. As you get more comfortable, experiment with unconventional colors – who says dinosaurs can't be pink or blue? Don't forget to use different brush sizes for various areas of the image. You can also utilize the zoom feature for intricate details.
Features
Variety of dinosaur images to choose from.
Multitude of coloring tools – colors, brush sizes, textures.
User-friendly interface suitable for all ages.
Fosters creativity and offers relaxation.
You can save your artwork and share it!
What are the best online games?