Dinosaur Coloring Book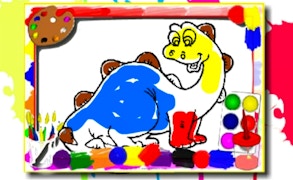 Dinosaur Coloring Book
Step into the prehistoric world of gigantic lizards with Dinosaur Coloring Book, an engaging mix of kids' entertainment and puzzle-solving creativity that stands out among coloring games. This online game, which can be enjoyed completely for free, is more than a throwback to your favorite dinosaur games. It's a blank canvas, waiting for budding artists to unleash their imagination and paint the town red - or blue or green as their heart desires.
For those on the search for captivating drawing games, the Dinosaur Coloring Book caters to you. This game provides an array of dinosaur images ready for painting, each image more spellbinding than the last. Evoke your inner artist; grab your virtual brush and start exploring! With a medley of colors at your disposal, you can make a Stegosaurus as vivacious as a rainbow, or a T-Rex that exudes menacing in stark monochrome.
The game interface is child-friendly with simple controls making it one of the best Games for Kids. Not only is it fun but also educational. As they color, kids learn about different dinosaur species and their features which blends learning with loads of fun. Even adults find tranquility in applying colors to these majestic creatures from our planet's past.
As you delve into each level, creating your full spectra masterpieces, it's clear that this isn't just another coloring activity. The Dinosaur Coloring Book is an immersive experience that encourages creativity and concentration - qualities every successful puzzle game should possess.
In conclusion, for those who are kids at heart or have young ones to entertain, Dinosaur Coloring Book offers hours of artistic entertainment. Mix the thrill of dinosaur games with the joy and creative freedom of drawing games; round off with a dash of puzzle-like concentration and you've got yourself an irresistible pastime fit for all ages.
What are the best online games?