Dino Island Rampage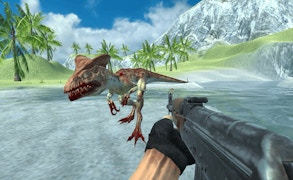 Dino Island Rampage
Description
In Dino Island Rampage, you step into the shoes of a brave dinosaur hunter, trapped on an island swarming with prehistoric beasts. The game thrusts players into a thrilling survival adventure in which they must fend off numerous dinosaur attacks. But, it isn't just about survival; as you progress, you unlock exclusive weaponry that transforms the hunter into the hunted.
How to Play
The game has intuitive controls: use the keyboard's arrow keys to move your character and the mouse to aim and shoot. Progress in game is achieved by eliminating dinosaurs that approach in waves. The more dinosaurs you defeat, the more points you earn to unlock powerful weapons. Survival is your key objective here.
Tips and Tricks
Beware of stealthy dinosaur attacks from behind and always stay on the move. Utilize your environment tactfully as it can serve as a shield against sudden strikes. Keep track of your weapon upgrades; more robust weapons kill dinosaurs faster, improving your chances of survival.
Features
Vibrant graphics recreating the prehistoric era.
A range of upgradable weapons available for unlocking.
A challenging arcade-style gameplay with increasing difficulty.
An immersive adventure filled with ferocious creatures.
Engaging survivor mode for an enduring gaming experience.
What are the best online games?
Tags