Diamond Dash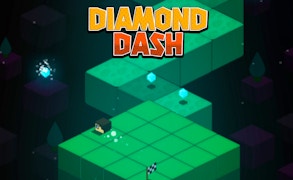 Diamond Dash
Description
Get ready to test your gaming skills in the captivating arcade game world of Diamond Dash. This game offers a challenging yet rewarding journey where you navigate through treacherous passageways. It demands precision and quick reflexes, as one false move can cost you the game. Stay on the path and experience the exhilaration of speed and danger.
How to play
Diamond Dash is a straightforward tap-to-play game requiring just one touch to operate. Your objective is to dash through the dangerous passages without deviating off the set path. The farther you go, the more points you accumulate. Each level presents new challenges that keep the gameplay exciting for hours.
Tips and Tricks
Success in Diamond Dash requires anticipation of your next move. Focus on staying on the path rather than just speeding up. Also, remember learning from your mistakes can greatly enhance your gameplay over time.
Features
Simple Controls: Just one tap is needed to play, making it easy for players of all ages.
Level Variety: Numerous levels ensure endless entertainment.
Addictive Gameplay: The fast-paced action and increasing difficulty level make every moment thrilling.
Skill Testing: Challenges reflexes and hand-eye coordination, pushing players' abilities to their limits.
What are the best online games?