Detto Man 2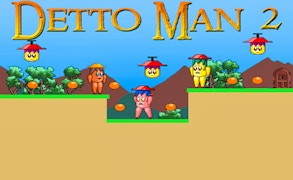 Detto Man 2
Description
Detto Man 2 is a charming 2D platform-based adventure game where you control an adorable robot in his quest to collect oranges. Encountering various adversaries, flying creatures, perilous spikes, and colossal blades along the way, you must skillfully navigate through each level to locate the exit door. With eight challenging levels, each one escalating in difficulty, this second installment of the Detto Man series offers hours of exciting gameplay.
How to play
Controlling Detto Man is simple with the use of either "WASD" or the "Arrow" keys for movements. To overcome higher obstacles or dangerous pits, double tap either the "W" key or "Up" arrow to perform a double jump. The primary objective is to collect oranges and reach the exit door while avoiding all hazards in each level.
Tips and Tricks
The key to success in Detto Man 2 lies in mastering your timing and precision. Be patient and carefully observe patterns of moving obstacles before making your move. Don't forget to use your double jump ability strategically, it can save you from tricky situations!
Features
Cute robot character with smooth controls
Diverse range of enemies and obstacles
Captivating 8-level adventures with increasing difficulty
Engaging double-jump mechanism
Vibrant 2D graphics
What are the best online games?