Dentist Doctor Teeth Surgery Hospital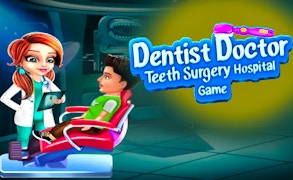 Dentist Doctor Teeth Surgery Hospital
Description
Step into the shoes of a dental professional in the engaging Dentist Doctor - Teeth Surgery Hospital game. From diagnosis to treatment, you're in control of a bustling clinic where you manage daily operations. Work to keep your patients healthy and your facility successful, all while maintaining the standard and image of the clinic. Dentistry has never been so exciting and rewarding!
How to play
Use your mouse or touchpad to interact with patients and perform procedures, including teeth cleanings, cavities fillings and even challenging surgeries. Successfully treat patients to earn money which can be used for upgrading your clinic, adding new equipment, or hiring more staff. The game's progression is based on how effectively you manage your clinic and patient satisfaction.
Tips and Tricks
Prioritize patient's treatment based on their condition severity. Keep an eye on your clinic's revenue, it's essential for buying upgrades and expanding the clinic. Always aim for high patient satisfaction; happy customers often lead to increased traffic -a healthy path to success!
Features
A unique perspective on dental care management.
Addictive gameplay with progress-based challenges.
Exciting procedures including cleaning, fillings, surgery, etc.
An opportunity to upgrade and expand your virtual clinic.
A highly interactive healthcare environment with engaging graphics.
What are the best online games?