Defend The Beach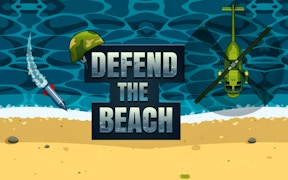 Defend The Beach
Welcome to the war zone gamers! Get ready to test your reflexes and word skills in the captivating universe of Defend The Beach. This high-adrenaline game fuses together the excitement of battle games and the intellectual thrill of word games into an addictive cocktail of action and strategy.
In this exhilarating realm of war games, you are entrusted with a mission – fend off an impending beach invasion. Your arsenal? Quick reflexes, nimble fingers, and a robust vocabulary. And make no mistake, typing words as fast as your fingers can fly across the keyboard won't just be fun, it'll be your survival strategy against escalating waves of enemy assault.
Defend The Beach offers a dynamic battle scene filled with a legion of modern military machinery. Boats, ships, aircraft carriers – they all launch relentless attacks requiring quick action and quicker thinking. The game intensifies with helicopters hovering low - weaving them into your story adds an element that makes it standout amongst other helicopter games.
No battle is won standing still. Make sure to stay vigilant for soldiers trying to infiltrate from the shoreline! Your endurance will be put to the ultimate test – how long can you sustain this furious onslaught?
To conclude, Defend The Beach combines elements of speed-typing tests and real-time war strategy into an exhilarating gaming experience. It's not just about how rapidly you can type or how well you strategize - it's about how skillfully you blend both aspects to emerge victorious in this thrilling battleground.
Gamers searching for a unique blend of word-play and high-intensity warfare – look no further than Defend The Beach! Can you survive this thrilling test of endurance? There's only one way to find out...jump in the fray today!
What are the best online games?