Deep Sea Fishing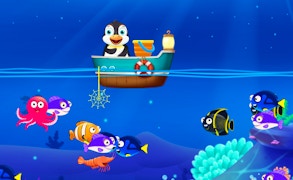 Deep Sea Fishing
Step into the whimsical world of Deep Sea Fishing, an exhilarating amalgamation of action, fishing games, and skill games that provides an aquatic adventure like no other. Your guide on this nautical escapade? A joyous flightless bird, the Happy Penguin, whose insatiable curiosity makes him a relatable and engaging protagonist.
The sun-dappled waters beckon as you dive into the deep blue, with one mission - to collect the most adorable sea animals and fishes to populate your personal aquarium. Amidst the delicate dance of sunlight piercing through azure waves, you get to witness an undersea spectacle brimming with vibrant marine life.
In this Skill Game, finesse and strategy are your best mates. The gameplay ignites your competitive spirit as it demands precision and patience – keys to master this fishing game. It's not just about casting your line out in the deep; it's about understanding the subtleties of timing, accuracy, and good ol' persistence.
Deep Sea Fishing does a fantastic job interweaving action with serene fishing moments. It is a test of skill draped in the appealing aesthetics of a virtual aquarium, making it irresistible for both hardcore gamers and casual players alike.
The game stands out with its stunning graphics that render a beautiful undersea universe while capturing every movement with fluidity. The aquatic sound effects further immerse you in this captivating underwater world, creating a meditative ambience that is both calming yet thrilling.
In conclusion, Deep Sea Fishing is not just a game but an interactive odyssey into our planet's aquatic depth. Offering you hours of fun-filled gameplay from deep sea exploration to building your own virtual aquarium, this fishing game truly captures the joy of discovery in every catch.
What are the best online games?
Tags