Deca vs Rooko 2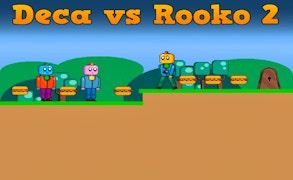 Deca vs Rooko 2
Description
In Deca vs Rooko 2, you embark on an exhilarating 2D platforming journey with a delightful robo-hero. Your primary mission is to collect delicious hotdog-like energy units to fuel your adventure, cleverly dodging waves of enemies and evading deadly obstacles like bullets, spikes, and giant blades. The challenge intensifies over its engaging 8 levels, each leading you to an Exit Door that transports you into the next daring escapade. This game is a thrilling sequel in the beloved "Deca vs Rooko" series.
How to play
The controls are pretty simple. Use the "WASD" keys or the "Arrow" keys for locomotion across the vibrant game world. The key "W" or the "Up" arrow key can be pressed twice for your robot hero to exhibit its amazing double-jump power. Use these controls strategically to outmaneuver your enemies and clear each level.
Tips and Tricks
Don't forget to utilize your robot's double jump ability. It can help you bypass tricky obstacles or get away from relentless foes. Also, try to learn the patterns of enemy movements and trap placement - it will give you an advantage in timing your moves and avoiding pitfalls.
Features
An engaging sequel in the popular "Deca vs Rooko" series.
A charming 2D environment teeming with challenges and surprises.
Eight uniquely designed levels for hours of fun.
Cute robotic protagonist with superb double-jump maneuverability.
Collectible hotdog items to boost your score.
What are the best online games?