Deca vs Rooko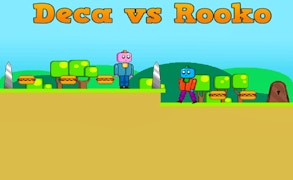 Deca vs Rooko
Description
In Deca vs Rooko, immerse yourself in a 2D animated adventure that takes platformer games to a new level. Assume the role of Deca, a courageous robot, tasked with collecting all hotdogs scattered across 8 challenging stages. Dodge pesky enemies, navigate deadly spikes and evade giant blades as you traverse through this intricate world. As you advance, the difficulty escalates, keeping the excitement and thrill alive.
How to Play
Deca vs Rooko is simple to play but hard to master. Use either "WASD" or "Arrow" keys to control Deca's movements. To perform a double jump, quickly press "W" or the "Up" arrow key twice in succession. Stay vigilant and quick on your feet as you make your way towards the Exit door to unlock the next level.
Tips and Tricks
The beauty of Deca vs Rooko lies in mastering its controls. Practice your double jumps, they are key for traversing complex terrains and evading enemies. Remember that quick reactions are essential to survive - strategize your movement pattern and time your jumps effectively to avoid obstacles.
Features
Key features of Deca vs Rooko include:
Packed with adorable 2D animation
A variety of challenging obstacles and enemies
An escalating difficulty curve maintains engagement
A unique double jump mechanism for exciting gameplay
A total of 8 levels offering diverse gaming experiences.
What are the best online games?